Join Tranquil IT on Discord!
The title of this article being very explicit, we will be able to go straight to the point! We took advantage of the relaxing atmosphere of the summer to create a "Tranquil IT" Discord server! It's the first time you hear about "Discord"? No problem, let's start from the beginning in this article!
Discord
is a
free proprietary VoIP
(Voice Over IP) software released in 2015. Initially, Jason Citron (the creator of Discord) aims to create a
light and simple tool
to allow video game players to organize games and chat. With more than 250 million users 4 years after its creation, we can say that the goal has been reached.As you can see, this communication tool has quickly attracted other communities, such as developers and computer scientists.

Come and discuss WAPT and Samba AD on our Tranquil IT server!
Presentation of the Tranquil IT server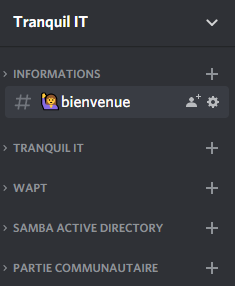 On Tranquil IT's Discord server, you will find 5 categories to explore:
Informations: You will find there the #bienvenue room, which contains all the rules for using the server. A must read before interacting on the other rooms.
Tranquil IT: You will find all the rooms allowing you to follow all our news: Job offers, events, etc…
WAPT: You will find several rooms to discuss on WAPT, with other users or with our team.
Samba Active Directory: You will find a text chat room and a voice chat room for your favorite Active Directory.
Partie communautaire: This part belongs to the community, so topics are freer there.
In order to facilitate the flow of information, we have tried to segment our rooms as much as possible. Thus, everyone can follow us as they wish: :
#nous_rejoindre : It is in this room that you will find all our recruitment announcements as well as the method to follow for unsolicited applications.
#notre_actualité : You want to follow all the news of Tranquil IT? You've come to the right place!
#nos_ressources : You need to know more about a subject ? Take advantage of this show to discover all our new contents!
#nos_événements : You want to meet our team? This fair is made for you!
#partagez_votre_avis : Do you have a feedback to give to our team? Good timing, we're eager to improve!
#playlist_interne : Discover the musical tastes of Tranquil IT's collaborators! Every day its music!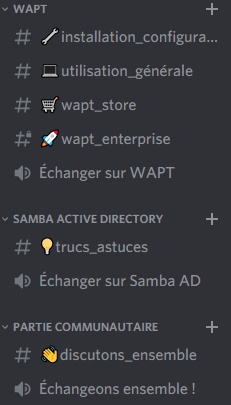 Here is a brief presentation of the Discord trade shows dedicated to WAPT:
#installation_configuration: Find all the exchanges concerning the installation and configuration of WAPT in this room!
#utilisation_générale: You encounter a problem using WAPT? You are at the right place to solve it!
#wapt_store: Don't miss any more updates of our repository thanks to this lounge dedicated to our WAPT Store!
#wapt_enterprise: We invite WAPT Enterprise users to login on our server. They will then be able to access this dedicated room.
Échanger sur WAPT: This is the voice room dedicated to WAPT
And so ends this little presentation of the Tranquil IT server. To find out what's going on at all these rooms, we invite you to come and see us on Discord! We are also listening to you if you have any remarks or suggestions for improvement concerning this new community tool. The comment space is yours!
Find all our social networks:
The WAPT 2.2 F.A.Q. is available! Discover the questions asked during our WAPT 2.2 presentation webinar!
read more
[/et_pb_column][/et_pb_row]