The development of version 2.2 of WAPT will lead to many changes at the beginning of this year. That is why we are taking this article to give an update on the evolution of WAPT in 2022 :
The release of WAPT 2.2
The release of WAPT Discovery
The changes to be expected for WAPT Community
The end of WAPT 1.8.2 support
We are proud to announce that WAPT version 2.2 is scheduled for March and will contain a major feature (in beta): WADS, OS deployment via WAPT! And that's not all. If you are interested in this feature, you can even try it! WAPT 2.2 is available as a Release Candidate (or RC) from 11th February 2022! We are also planning a second RC at the end of February, before the final version is released.
What is a Release Candidate ?
In the development phases of software, the Release Candidate is the version that precedes the version that will be released. This version, which may become the stable version, is made available for final testing. This allows, among other things, the detection of errors that appear in particular cases.
The release of WAPT Discovery
The release of version 2.2 marks a turning point in the history of WAPT. WAPT Enterprise and WAPT Discovery will share the same base of code. Both versions will be released together. Thus, the release of WAPT Discovery is planned for mid-March. A Release Candidate of this version is also available from Friday 11th February 2022!
Explore WAPT Discovery
WAPT Discovery is the free version of WAPT, based on Python 3. This version is limited to 300 workstations and does not have all the features of WAPT Enterprise, so functionally it is closer to WAPT Community. Whether you are new to WAPT or using WAPT Community, upgrading to WAPT Discovery will be the same. Just follow our documentation.
WAPT Community: What's next?
We announced it in 2021: Tranquil IT has decided to
stop contributing to the development of WAPT Community with version 1.8.2
. As of
April 30, 2022
, the maintenance of WAPT Community will be handed over to the community. We will
no longer provide any services on this version
. Tranquil IT is not committed to ensuring
the compatibility of the WAPT Store
with the packages of the Community version. As a reminder, the source code of version 1.8.2 will still be available as read-only on
the WAPT GitHub.
End of WAPT 1.8.2 support
In addition to these changes, Tranquil IT has also decided to
stop supporting WAPT Enterprise 1.8.2 from 30 June
2022. This version, which is already almost 2 years old, is now
too different from the current version
of WAPT. The transition from Python 2 to Python 3 is a very good example. We recommend that you
upgrade your version of WAPT before this date
. To do so, you can :
Upgrade by following our documentation.
Call on our teams to help you in this process. Our sales department can be reached on .+332.40.97.57.55.
For any lower version, you will have to update WAPT to version 1.8.2 before upgrading to higher versions. As this is a more delicate operation, we advise you to create a new server. Once again, our sales team is available to help you. Of course, version 1.8.2 will remain functional after June 30th.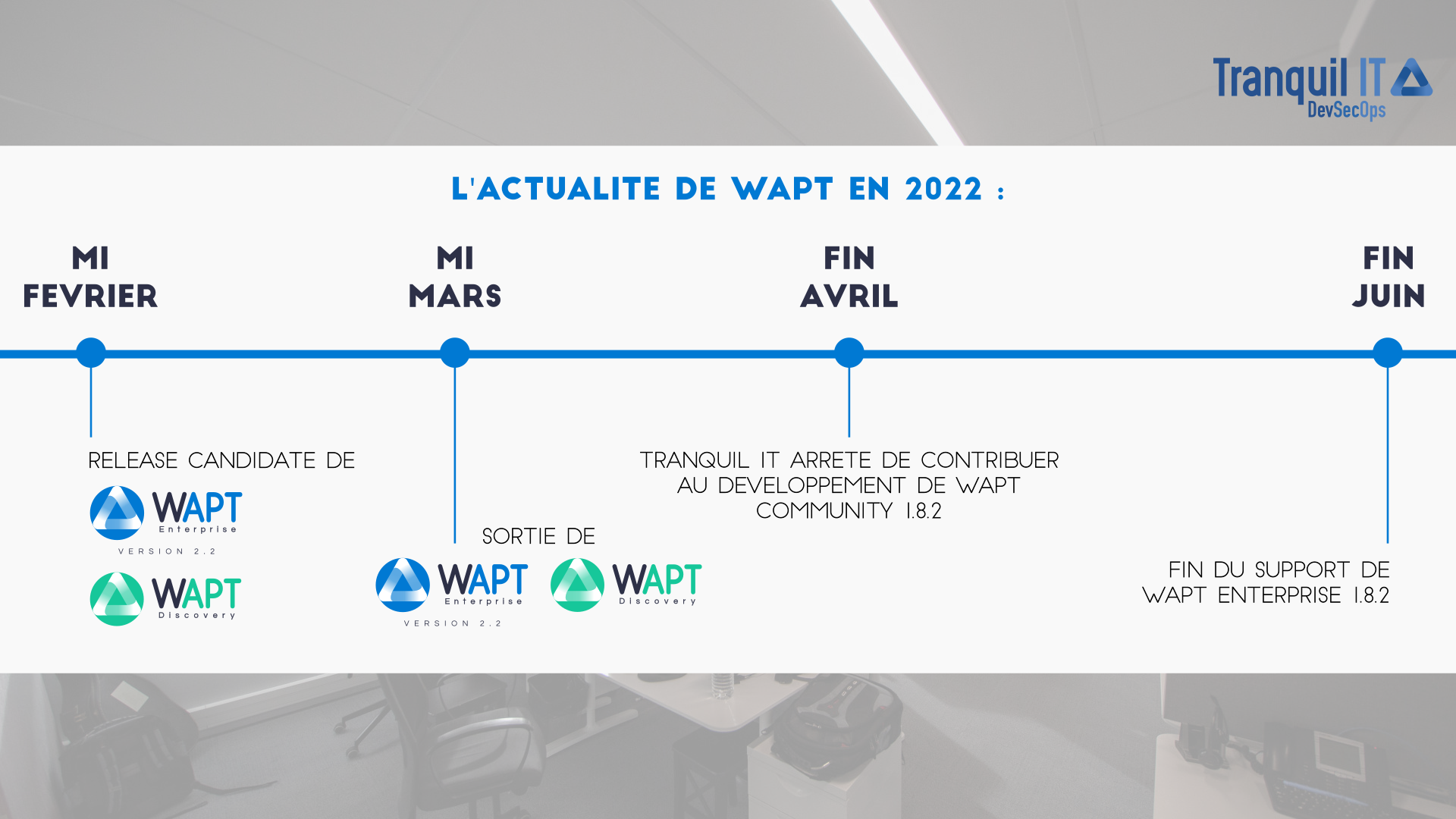 Tranquil IT celebrates its 20th anniversary this year. On this occasion, a series of articles retraces its history. History of Tranquil IT After 5 years in Saumur, Tranquil IT decided to move to Nantes to be closer to the regional urban center, so as to expand its...
read more