Raising Awarness and training #CyberSecMonth
October's news is relatively busy for Tranquil IT since it is marked by an event that is close to our hearts and is part of our daily commitments: CyberSecMonth, the European Month of Cybersecurity
CyberSecMonth sounds important but what is it really?
ECSM, for European Cyber Security Month, is an awareness campaign that runs throughout the month of October and aims to raise awareness among citizens and organizations about cyber security threats. Many organizations then share their resources and other good practices to protect themselves online. That's probably why you're here!
The advantage of such an event is that it offers more than 400 activities in about 30 countries. In France, the Agence Nationale de la Sécurité des Systèmes d'Information (ANSSI) covered the event with a very good press kit containing all the events organized in France.
CyberSecMonth with Tranquil IT?
Several actions have been created to follow the event, especially on social networks, but if it goes too fast for you, don't worry, we will
summarize the unmissable articles
of the month of October in our blog. What if we don't stop there?
Every Monday, Tuesday and Thursday, you will find a computer graphics dedicated to cybersecurity created by us and inspired by the computer hygiene guide created by ANSSI. In this way, we will have the opportunity to address all the elements of cybersecurity.
Now that the appointment is made, we can start today with one of the pillars of cybersecurity: Awareness and training!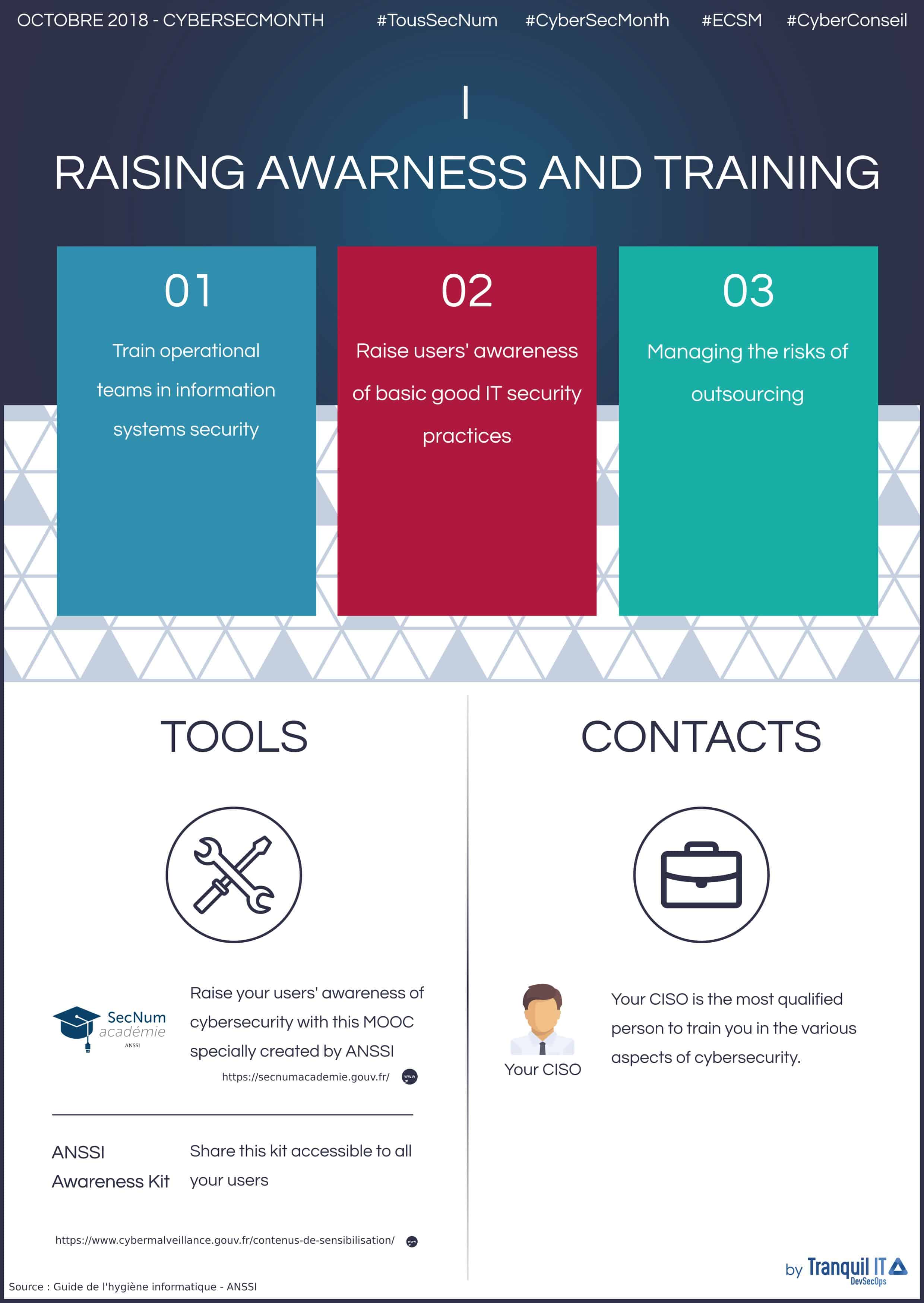 When you start a process to secure your fleet, the first thing to do is to raise awareness and train your users in cybersecurity. Cybersecurity is a subject that concerns us all. Cybersecurity requires not only methods but also the choice of the right tools and trusted contacts. Without these two elements, it is difficult to implement a real cyber defence strategy:
The Sensitization Kit
This kit will enable you to raise awareness among all of your users of cybersecurity and the right reflexes to adopt on a daily basis. It is fun and accessible to all. You will find videos and summary files to share with your users. The kit is made up of four parts:
Mobile devices :  Mobile devices are an easy target for malicious hackers, especially thanks to the many public wifis (you should try to avoid)
Phishing : Teach your users to identify suspicious emails and report them to you! Even if it's tempting to save 30 years with this miraculous cream or to close an extraordinary deal with this rich dignitary who has visited your website, the best thing to do is to go your way.
Passwords : A basic rule: vary the types of characters in your passwords. But that's not enough! No, Password123! is not a good password. The best way to do this is to use a password manager, such as Keepass for example
Professional and personal : With the arrival of BYOD (Bring Your Own Device), your vigilance must be double. Your users are often careless with their mobile devices, either out of ignorance or overconfidence. "With my Mac, I'm sure I don't have a virus": which sysadmin has heard this sentence before? It is up to you to raise awareness among your users to erase these preconceived ideas!
Discover the awareness kit and share it with your teams!
The SecNum academy
Set up by ANSSI, this MOOC aims to transform citizens into real actors in their own security and that of their company. To obtain the certificate of success (non-certifying), it will be necessary to validate the four modules of this training to learn the basic concepts of information systems security:
Overview of the ISS
Authentication security
Internet security
Workstation security and nomadism
This MOOC goes beyond the awareness kit, and is more like real cybersecurity training. Our advice: communicate this MOOC to your already notified employees only!
Go ahead and try  the ANSSI MOOC !
We are committed internally to training our users. One tip to start with is to communicate the cybersecurity awareness kit as soon as a new employee arrives. We are also part of a DevSecOps approach in the development of our flagship tool WAPT.
Cybersecurity for children
This year, we contributed to the Holiday Book for Digital Security. This project was led by ISSA France and allows you to raise your childrens awareness of cybersecurity.
On the agenda :
Some "little tips" to teach your child to protect themsemves from cyber-malicious surveillance
Games to learn how to "speak digital"
Funny illustrations
Theme sheets
The notebook even offers your child the diploma of the Ace of the Web (only if they have answered the questions correctly, we let you make sure of that!)
Digital security is a daily challenge, and raising awareness among the youngest in a fun way is the best way to protect them.
Where to find the Holiday Book?
In free distribution on all motorways in France next summer
DevSecOps, a reflection of our commitment to cybersecurity
If you are using our WAPT deployment solution, you will know that we have strengthened our commitment to cybersecurity with the release of WAPT 1.5. Indeed, version 1.5 of WAPT Enterprise has obtained ANSSI qualification, attesting to the security and robustness of our software. We have also revised our identity to reflect this commitment.
We then opted for a "DevSecOps" approach. This movement is an evolution of DevOps methods and integrates "By Design" security. WAPT is therefore developed with security in mind from the very first lines of code.
Do you need to secure your computer equipment?
What you shouldn't have missed:
Who to follow during #CyberSecMonth?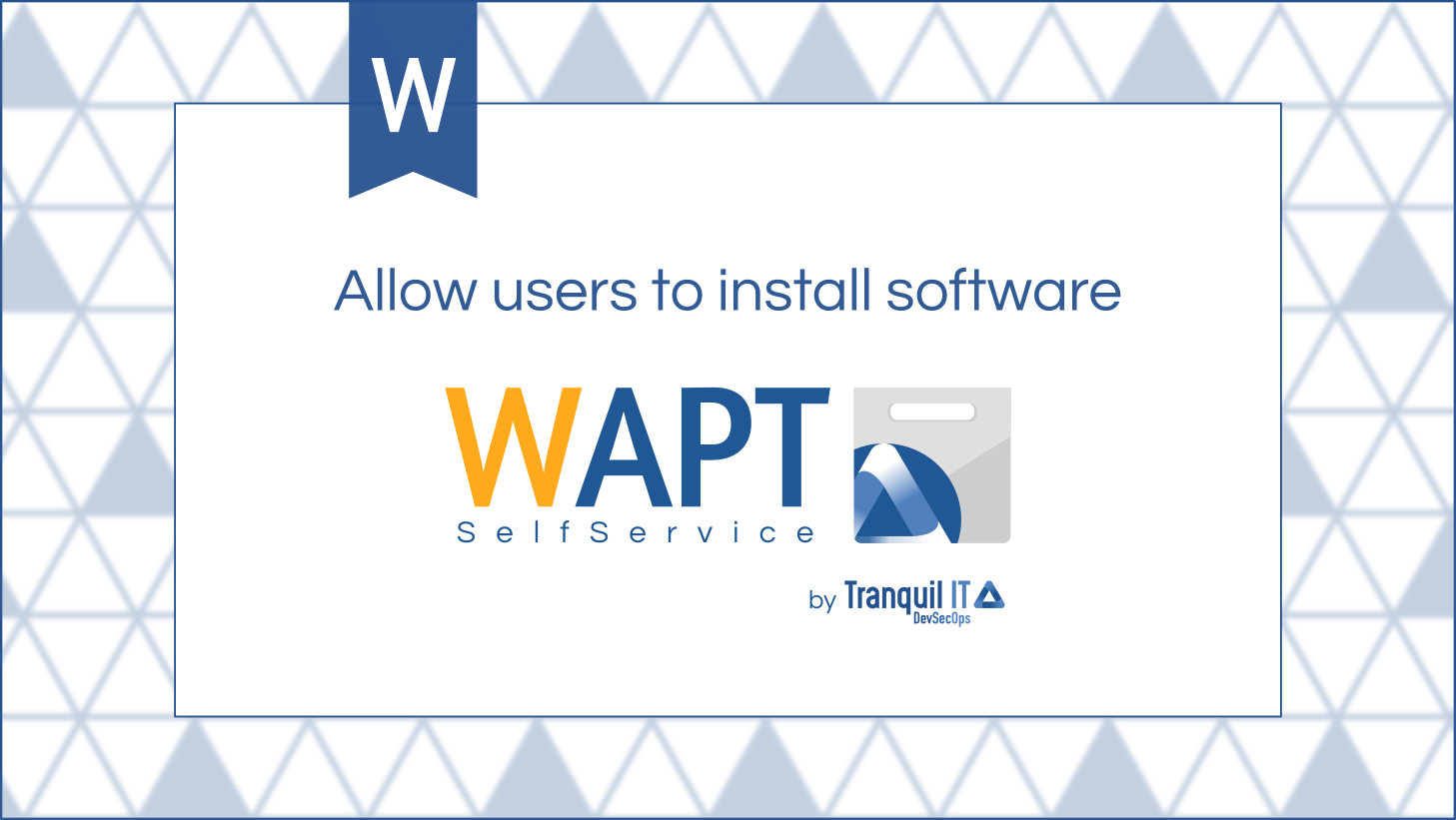 At Tranquil IT, we work on a daily basis with system administrators who are looking for fast and efficient solutions to manage and secure their IT assets, which is certainly why they come to meet us (hello WAPT). And if there is one problem that any AdminSys is likely...
read more