Release of WAPT 1.7: Check for Windows updates!
After several months of development and testing we are proud to release the newest version of WAPT, 1.7. We were keen to provide a version that met as many needs as possible, so we took advantage of 1.7 to integrate
exciting and highly requested features.
As you may have seen on
Twitter
and
LinkedIn
, WAPT Enterprise benefits from many changes to simplify your IT asset management. Before going into the details that interest you, here is the menu of this version 1.7 :
Windows Update: Manage updates for your Windows OS
The major new feature of this version 1.7 is the management of Windows Updates from the WAPT Enterprise console. Finally, you can control updates of your Windows installed base, the time for unwanted updates is over. In addition, if you have secondary repositories, this allows you to limit the use of bandwidth when running these updates.
So if you don't have a centralized solution to manage updates for your Windows OS or if WSUS is not keeping you happy, this is your chance to discover WAPT and regain control over your Windows updates, with efficiency and simplicity.
Why use WAPT to update your Windows?
With WAPT Enterprise 1.7, you choose the deployment conditions for your Windows updates. The filtering possibilities (deployment by AD group for example) that WAPT 1.7 integrates will leave you the option to choose to apply or not individuals updates or set up updates. Once your update list is established, you can test the updates on a few workstations and then deploy them on your entire network. In addition, if one or more updates cause trouble on your network, you can decide not to deploy them.
By using WAPT to perform Windows Update, you avoid purchasing Windows licenses. This is a big plus if you are using Samba Active Directory in your network. Finally, WAPT relies on the official method embedded in every Windows client to list required updates. We explain this in more details just below!
How Windows Update works via WAPT?
The operation of WAPT WUA is based on the "Windows Update Agent" API. You can find more information about the "Windows Update Agent" API in the Microsoft documentation.
Once a day, the WAPT server downloads a "wsuscn2.cab" file (unless it has not changed since the last download) from official Microsoft servers. This file allows the Windows update agent to check whether updates are available for the host. Regularly, the Windows Update Agent scans for available updates using this file and transmits the list of its required updates to the WAPT server. If an update is pending on the machine and it is not already cached on the WAPT server, then the WAPT server will download it from Microsoft. Thus with WAPTWUA you will only download the necessary Windows updates that you really need to deploy on your network; no more download of language file updates for Microsoft Office in Vietnamese, unless you use Microsoft Office and Vietnamese!
If you want to configure WAPTWUA on the WAPT agent or if you want more information on how Windows Update works, you can refer to our official documentation!
You want to test version 1.7 of WAPT ?
Improving self-service: Allow your users to securely install software
This version of WAPT also benefits from an improvement in Self-Service functionality, especially to simplify the end-user experience (employees or customers). With this new version, you can filter software and configurations that the end user can see in the self-service (currently in web interface).
Give your users freedom without compromising your fleet
Until now, the user had access to the organization's entire software library using self-service. From now on, you will be able to filter the software displayed according to the AD groups (the different services of an organization for example) and users that you have defined on your network.
One of the advantages of this evolution is that your users will no longer seek to install (or have you installed) software that they should not use. However, this is not the only advantage of this new feature for the management of your fleet.
By filtering software and programs that are visible to the end user, you can give them permission to install only certain software packages. You can let your users install by themselves software verified and identified as secure. As a result, you save time, gain flexibility in managing your users' rights and more accurately filter the deployment of applications on your fleet.
Reporting: Take advantage of the integration of a SQL Query
The simplification of reporting of your IT assets is at the heart of the development of this version and we have sought to provide you with a operational reports from the WAPT console. The integration of a SQL query mecanism into WAPT 1.7 is intended to give you insights into your deployed software, configurations and operating system updates.
You already benefit from many pre-registered queries that can be directly used to monitor your fleet and your deployed configurations. With this method, You decide what information and what level of detail is important to you. That's why you'll also have the ability to create your own SQL queries to customize your reporting with WAPT Enterprise 1.7!
How do queries work in WAPT?
Query management from the WAPT console offers many advantages to the reporting function of this version 1.7. You can create, test, duplicate, edit, export or delete your queries. Queries are saved in the "PostgreSQL WAPT" database running on the WAPT server.
Frequently, a big problem when searching for software is that the same software can take on several names and have different uninstall keys depending on their version. WAPT 1.7 solves this problem with a software name standardization method. This feature is located in the console's tool menu, all you need to do now is to select the different versions of your software and assign a standard name to your selection. Again, you can consult our documentation for more information!
Discover WAPT 1.7 live!
In order to present the new features and interact with the WAPT community, we organized a live presentation of the 1.7. If you missed Simon's webinar, the replay is available!
What's new in WAPT 1.7 Community
The Community version benefits from many bug fixes with this new version, bringing the level of security and safety of the software to a new standard. The new version of the Community also benefits from many new features, you will find more information in the official changelog:
You can create plugins from the console and therefore perform commands with external applications
It is possible to filter software packages according to their architectures or languages (in the private repository at import)
When importing a WAPT package, you can choose its default maturity
WAPT integrates Veyon into the console (highly popular distance learning software in schools)
Interested in WAPT Community version 1.7?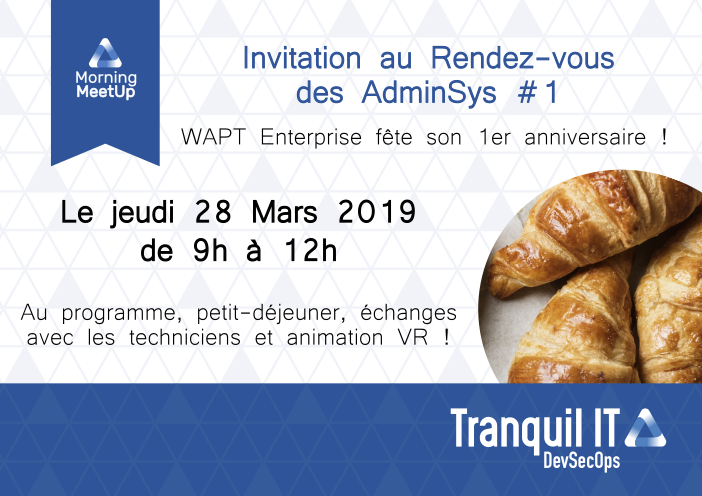 Sharing, discussing and snacking Our baby WAPT Enterprise has just turned one year old and its latest version 1.7 is just out! To help it blow out its first candle, we would be happy to gather as many users and undecided people as possible around a MeetUp. The idea is...
read more