MeetUp: The Adminsys' Meeting
Sharing, discussing and snacking
Our baby
WAPT Enterprise
has just turned one year old and its latest
version 1.7
is just out! To help it blow out its first candle, we would be happy to gather as many users and undecided people as possible around a
MeetUp
. The idea is to set up a recurring event intended mainly for system administrators. We plan to organize it quarterly and we decided to call it:
the Adminsys meeting
. It rock, doesn't it?!
But, what is a MeetUp ?
A
MeetUp
is an informal meeting of people around common interests. Blah, blah, blah, blah… For us, it will be above all an opportunity to gather our community of customers, forum users or even undecided people
around a breakfast and entertainment
at each event. There is nothing better than to
exchange with software developers, technicians and users
, improve your network and discuss your projects. The
Adminsys meeting
is above all a unique opportunity to meet around a common theme and share your desires and suggestions for the future.
The 1st AdminSys Meeting
The first edition of this MeetUp will take place on
Thursday 28 March in Nantes, between 9am and 12pm
, around a breakfast at the
Hypercube
in Nantes (4, rue de l'Héronnière). You will obviously not eat for 3 hours, but between a coffee and a croissant, you can meet the developers and technicians of the
WAPT software
. Your opinion is important to us, so take the opportunity to share your suggestions and desires for future versions of WAPT. Once your stomach is relaxed, you will enjoy the late morning with a
Virtual Reality animation
before returning home. But it will be to better meet at the next event!The concept of the
Adminsys Meeting
will evolve according to the success of this first edition and your suggestions. In fact, we need you to determine our next MeetUp topics, so feel free to write your ideas in comments and you will also be quickly informed of upcoming events. This article is evolutive, we will add photos and videos after the MeetUp in the hope of making those who were absent from the first edition jealous.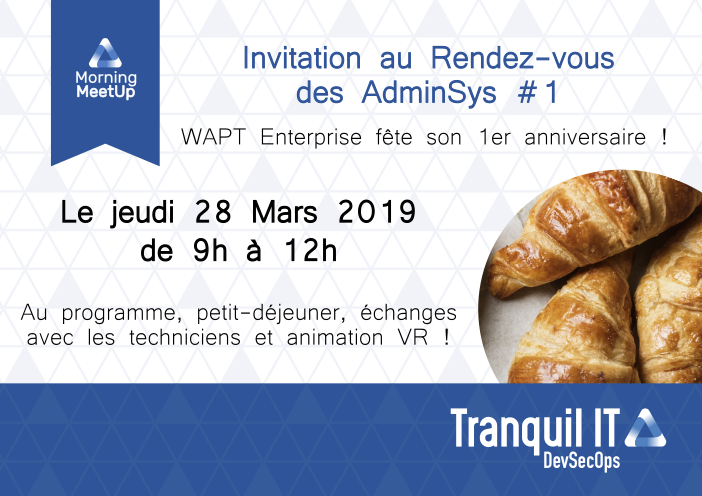 1st edition of the AdminSys meeting:
 March 28, 2019, from 9am to 12pm In Nantes (Hypercube, 4, rue de l'Héronnière)