MeetUp: The Adminsys' Meeting
Sharing, chatting and snacking
The Tranquil IT team wanted to create links with its customers and bring together its community of users. but how? We thought that seeing each other face-to-face, and being able to put faces on all these names would be ideal, because we don't know each other yet, so we set up regular meetings for system administrators and other IT managers. And we called it: the Adminsys' Meeting, it's slamming, right?!
But, what is a MeetUp?
A MeetUp is a rather informal meeting of people around common interests. Blah, blah, blah, blah… In short, for us, it is above all an opportunity to regularly bring together our community of customers, forum users or even the undecided. Depending on the occasion, the event will last several hours or a full day, at breakfast or at the aperitif, in Nantes or elsewhere,… The format will vary according to the sessions, so feel free to share your suggestions for themes, animations or even meeting places in comments on this article: Le Rendez-vous des Adminsys, nothing better to share with developers, technicians and other users of the software, to improve its network and to discuss its projects. It is also a unique opportunity to meet around a common theme and share your desires and suggestions for the future.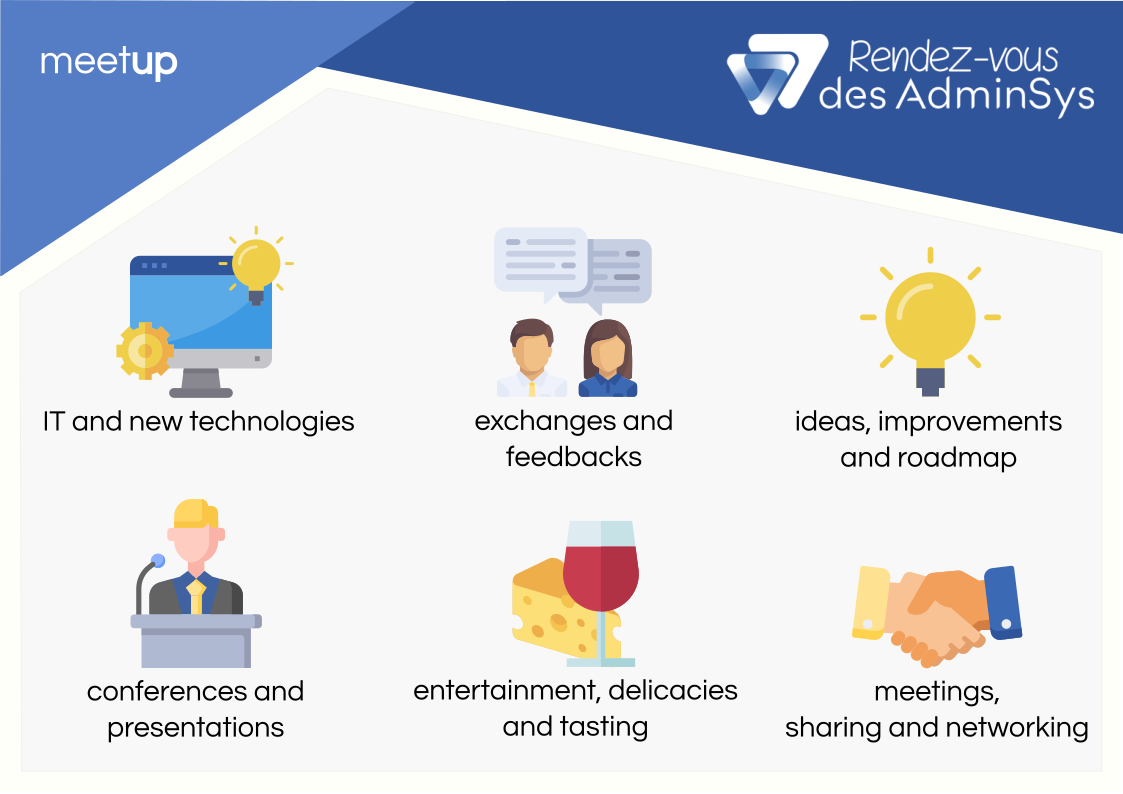 To go directly to the summary and photos of the various meetings of the Adminsys, click on the one you want:
#1 : The 1st AdminSys Meeting
Current March 2019, our baby WAPT Enterprise celebrated his one year anniversary and its version 1.7 was released. To help him celebrate his first candle, we launched our first meetup morning on Thursday 28 March 2019 in Nantes. And we're quite happy to say it was a success!
From Rennes to Toulouse, via Poitiers, there were about twenty of them joining us at the Hypercube, specialist in RV animation. From 9am, a breakfast was available while waiting for all the guests. Between a croissant and a coffee, Hubert, our chief developer briefly introduced WAPT Enterprise and its latest features. Once we had filled up with information and rested our stomachs, it was with Virtual Reality animations that we finished the morning. We also used this first MeetUp to interview the most loyal WAPT users, here is the result:
Thank you again to all the participants for their presence and good humour. We take this opportunity to congratulate once again the winners of the various RV challenges and we hope that the cups are already on the chimney!
#2: Samba AD in the spotlight!
Wednesday, June 12 was held the 2nd edition of the RDV of Adminsys. This time it was in Paris, in Cap Digital space. Between loyal customers and secret admirers, it was a very good opportunity to highlight Active Directory and more precisely Samba AD. To complete this event, we had the privilege of welcoming the Samba lead-developers, straight from New Zealand!
The afternoon was spent around 4 main conferences:
" Migrating 170 Samba3-NT4 domains " by Denis CARDON, Managing Director of Tranquil IT
" Samba: The unexpected! "by Andrew BARTLETT and Garming SAM, Samba AD developers within Catalyst in New Zealand
" The complementarity between WAPT and Samba AD" by Simon FONTENEAU, WAPT expert at Tranquil IT
" Migrating to Samba Active Directory" by Philip RICHARDSON, system and network manager of Brussels Training
Then, around an aperitif in the colours of our region of Nantes, the meetup ended in a convivial moment of exchanges and encounters.