Webinar – Discovering WAPT
10 May 2019 / 13h30

-

14h15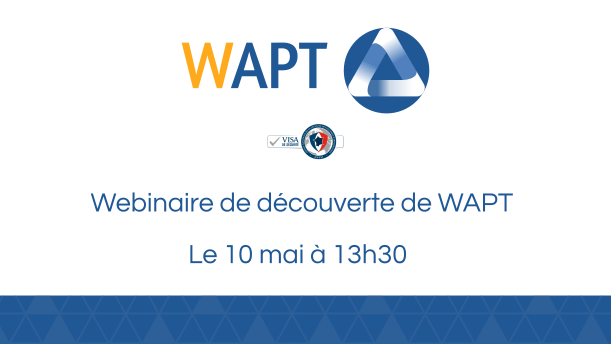 Want to discover WAPT? We look forward to seeing you on Friday, May 10, 2019 at 1:30 pm! This time, you will have to go to the Webikeo platform to follow Simon's adventures. You can also discover WAPT on our site!
But what is Webikeo?
Webikeo is a platform specialized in the realization of webinars. The site is intuitive and you will find many categories such as:
Marketing
E-Commerce
Tech
Finance / law
Rh / Management
Health
Construction / Energy
Industry
Business-dev
Custom relationship
You got it, it's the "Tech" part that interests us for this special webinar "Discovering WAPT"! Feel free to check out what's hidden in the other categories after our webinar. We trust you!
The program for this webinar
The objective of this webinar is to review the basics of the software. We will take the opportunity to explore the Community and Enterprise versions. As a reminder, WAPT is a software to facilitate the deployment of software or configurations on a computer park.
So, if you are a regular user, the technical content will seem less exciting. Nevertheless, you can always come and ask us your questions in the chat!
The program of this webinar:
Keeping your computer equipment up to date
Deploy software on a computer park
Inventory your computer equipment
Tranquil IT decided to come back to YouTube for the organization of these WAPT webinars. Thus, this live is no longer available since it is on our old Webikeo account.
But don't worry, we have many videos allowing you to discover WAPT on our YouTube channel. In addition, you can find our "WAPT Webinar" playlist!
Discover our latest webinar: