Managing Windows Updates with WAPT Enterprise
WAPT Enterprise allows you to regain control of Windows Updates! From the management console you decide the conditions for deploying updates to be deployed on your IT equipment! You can also filter the workstations on which you deploy Windows Updates for more flexibility and accuracy.
Discover WAPT Enterprise
Try WAPT Enterprise
Better Windows Update management with WAPT Enterprise
WAPT Enterprise gives you the opportunity to regain control over Windows Updates! By using WAPT Enterprise, you decide the conditions for deploying Windows updates to your IT assets.
The many filtering options (deployment by AD group for example) that WAPT integrates gives you full control when deciding to apply these updates or not. Once your update list is established you can test it on a few workstations and then choose whether or not to deploy it, depending on the conclusion of the test phase. The time for unwanted updates is over!
Microsoft's official method
WAPT Enterprise is based on Microsoft's official method for creating Windows Updates. Windows Updates are downloaded from the official Microsoft server but are stored on the WAPT server.
Bandwidth limitation
WAPT Enterprise allows you to use remote repositories to deploy your Windows Updates. This way, you reduce downloading and limit bandwidth consumption.
Save on license purchases
Using WAPT Enterprise to perform Windows Updates allows you to avoid the need to purchase Windows server licenses'. WAPT Enterprise can therefore be a source of savings for your infrastructure.
Reduced disk space
WAPT only downloads Windows Updates that you have previously authorized in the management console. By limiting the download volume, you reduce the disk space required for this action.
Make Windows Updates more flexible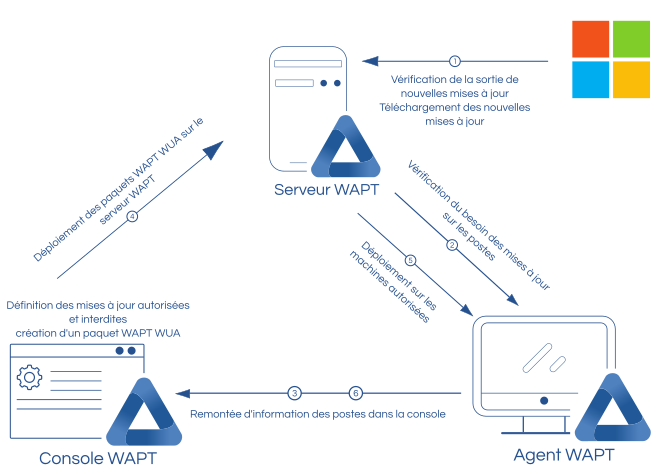 How WAPT Windows Update works:
1. The WAPT server
regularly downloads the update file
from Microsoft servers.
2. WAPT agents download this file to check if updates are available on the machines.
3. Reporting allows you to define which updates are allowed or prohibited via the WAPT console.
4. You deploy the Windows update package on the desired workstations.
5. You benefit from a precise feedback on the deployment you have just made.
With WAPT Enterprise, you benefit from total flexibility in the deployment of Windows Updates. You can even schedule the scanning and downloading of Windows Updates. You can also choose to launch the installation of updates when the machines stop or push the deployment from the centralized management console. In addition, you have a variety of update deployment conditions, such as deployment by Organizational Units for example. Good safety practices:
It is also possible to choose a minimum publication time before installing a Windows Update. This feature allows you to avoid installing updates as soon as they are released and to avoid compatibility problems with your computer equipment. In addition, with WAPT you can assign different levels of maturity to your update packages. This feature allows you to have a test environment for the Windows Update packages you deploy on your computer equipment.
What users are saying about WAPT
Read about the inspiring experiences of your peers.
I have no knowledge of Python language but I have managed to create my own packages. I look forward to version 1.5 with the websocket.
THANK YOU for your work. I think this is the beginning of a great adventure with you….
The skills and availability of the speakers are undeniable and allow us to make great strides forward. Samba4 is beautiful on paper, it's better when it works: Tranquil IT masters its implementation perfectly. We opted for the TisBackup backup solution and also the Wapt deployment tool: perfectly operational "in-house" open source solutions.
Tranquil IT has, unlike other IT service companies, the concern to really follow its customers beyond the eventual initial specifications. Very quickly, it quickly makes a difference to the quality of interventions.