Software and configurations deployment
WAPT supports you from package creation to software deployment through its centralized management console. Create the package you need quickly and easily and deploy it in minutes on your IT assets. The User Self Service even allows you to free yourself from part of the deployment.
Create packages
Deploy software
Create and deploy a software package in 2 minutes
The deployment of software by hand on each workstation is over, as is the deployment of software without inventory feedback using GPOs! With WAPT, you benefit from a silent and remote software and configuration deployment tool.
Test your software packages locally before deploying them on the workstations of your choice. In addition to being able to quickly install, update or uninstall software on your computer equipment, you benefit from a reliable and instant inventory feedback on the progress of your software deployments. You therefore gain in reactivity when it comes to administering your computer equipment.
Software packages ready for the deployment
Save time with the package creation wizard
Before acting on your fleet, you need to create a software package containing the configurations that will be deployed. Fortunately, WAPT has a
package creation wizard
in its management console to simplify your work.
Simply drop a".exe" or".msi" and the wizard will automatically make a package template. All you have to do is use this template to customize your package with Python. Again, WAPT simplifies this step with PyScripter (an IDE that facilitates WAPT package development) and Setup Helpers (a library of shortcuts that simplifies package writing). Thus, it is possible to create complete packages without code notions.
Once the software package is created, you can test it locally to make sure it works properly. All you have to do is send the package to the server so that it can be deployed on the machines of your choice.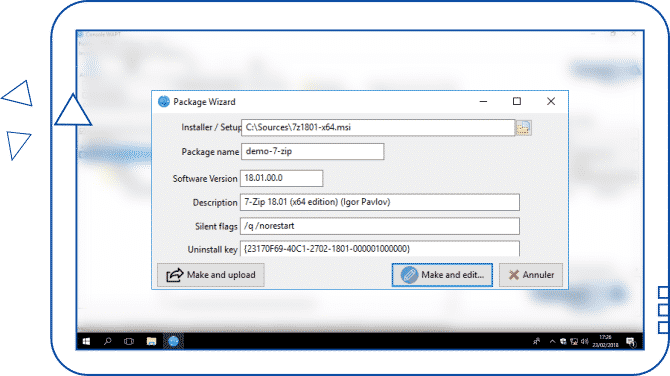 Several types of packages
Managing your IT assets is not just about deploying software or configurations. With WAPT, you can build software groups or machine groups to simplify deployment. You can also allow users to install certain software (depending on your conditions) or even control the conditions for deploying Windows updates on your computer equipment.
Automatic signature of packages
Package signing ensures that only the administrator can deploy packages on the IT assets. You can easily find out who is responsible for creating and deploying packages. With this system, the server is no longer a sensitive asset and allows remote depots to be installed without fear. WAPT Enterprise also allows you to have several signature keys and therefore to differentiate administration roles.
Different levels of maturity
When creating a package, it is possible to specify a maturity level to deploy the software on specific test workstations. This allows you to check that the new version of the software does not create problems for users and their machines. Once the conformity of the package has been validated, all that remains is to modify the maturity level of the package to deploy it on the desired workstations of your IT equipment. Good safety practices:
It is more than recommended to test the packages on a test environment representative of your IT equipment before deploying them. This limits damage in case of misconfiguration or in the presence of a malicious agent in the software. The package signing system enhances this security by allowing you to identify the people responsible for creating packages.
Quick and easy software deployment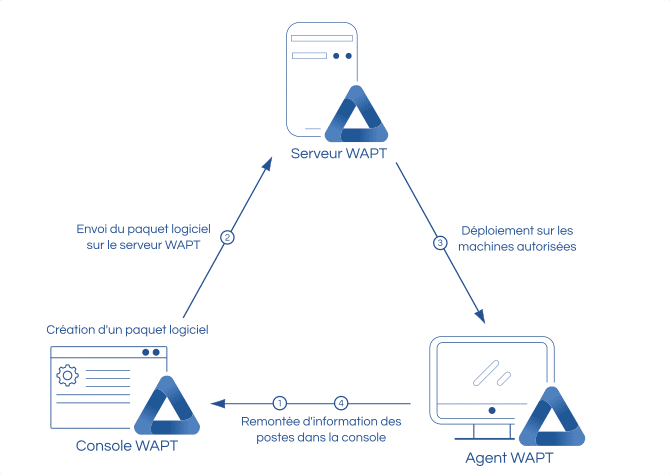 With WAPT, software deployment is remote (from the centralized management console) and silent for users. You can start your software deployments or schedule them at the end of the workstations so as not to interrupt your employees. In addition, when software is updated on the server, it is automatically updated on the desired workstations when they are restarted.
To save you even more time, WAPT allows you to deploy to multiple workstations or a group of workstations simultaneously. This system greatly facilitates the management of positions by department or subsidiary, for example. Thanks to the centralized management console, you benefit from real-time inventory feedback on each of your deployments.
Inform users before deploying software
With WAPT Enterprise, you have more options to deploy software on your fleet. You can send a message to users to notify them of an upcoming update. The user may choose to agree to make this update. In case of refusal, the update will be postponed until the user's workstation is terminated. This ensures that you do not abruptly interrupt your employees' work.
You can also write and send messages to users of your choice from the WAPT console. This allows administrators to be more transparent about their interventions and to communicate simply with users.
Going further with WAPT Enterprise
WAPT Enterprise is the ideal tool to quickly deploy software, perform a complete inventory of your fleet or control Windows updates. Many features are also designed to simplify the administration of the largest IT assets. Still some doubts? You get one month free to try WAPT Enterprise!

Let your users deploy software
The WAPT Self Service is a software store that can be customized for each user. The administrator is able to decide which packages to deploy and the filter system by user or AD group (departments, subsidiaries, etc.) allows the Self Service to be differentiated according to the user. This way, you can give each user the right to install the software they need. WAPT Self Service allows you to reduce the number of interventions while guaranteeing the security of the software deployed on the fleet.
A software store for users:
By connecting to the WAPT Self Service, you have a simple and intuitive interface to operate on your computer. The WAPT Self Service allows:
Install, update or uninstall several software programs quickly.
Use the search and filtering functions.
To benefit from a lot of information about the software before, during and after installation.
What users say about WAPT
Read about the inspiring experiences from your peers.
I have no knowledge of Python but have managed to create my own packages. I look forward to version 1.5 with websocket.
THANK YOU for your work. I think this is the beginning of a great adventure with you…
The skills and the availability of the Tranquil IT team members are undeniable and has allowed me to progress by leapfrogs. Samba4 is beautiful on paper, it's better when it works: Tranquil IT masters its implementation perfectly. We opted for the TisBackup backup solution and also the WAPT deployment tool: perfectly operational "in-house" open source solutions.
Unlike other IT services companies, Tranquil IT really cares about following its customers beyond any initial specifications. Very quickly, it makes a difference in the quality of interventions.