Computer inventory management
Enjoy real-time IT inventory management with WAPT. The agent system allows you to perform a software and hardware inventory directly from the console. By using WAPT Enterprise you can build complete and fully customized reports to simplify the monitoring and administration of your IT assets.
use WAPT agent
Discover WAPT Enterprise
Simplify IT inventory management with the WAPT agent
Stop multiplying the tools to manage and administer your IT assets! WAPT allows you to perform real-time IT inventory management using its agent system. During installation, the WAPT agent is deployed on each computer workstation in your fleet. This agent will automatically report all the information you need to monitor and administer your IT assets.
From the centralized management console, you will be able to benefit from very precise information about your computer equipment, such as the list of software installed on each workstation (as well as version differentiation) for example. You will also find a lot of information on the configuration of each machine in your computer park in this same console.
WAPT also makes it possible to carry out a hardware inventory of your computer equipment. Thus, you can quickly know the IP address of a workstation or the different versions of Windows on the park. This physical inventory can also be used to find the last time a user was seen, for example.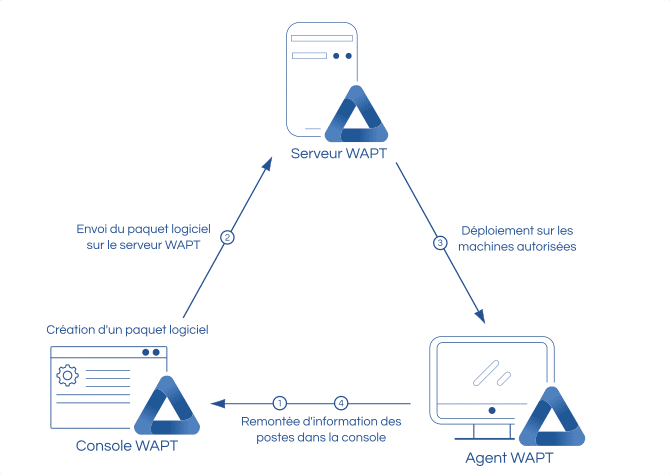 A single tool to monitor and administer your fleet
Take advantage of WAPT's Drag & Drop system to keep only the indicators that interest you for monitoring and reporting your IT assets. You can also filter the packages displayed (by architecture, language, etc.) in the console to improve readability. With WAPT, you benefit from real-time feedback on deployments, on your machines and also on the configurations you make.
You can set up WAPT to perform a regular audit (every 2 hours for example) of your computer equipment or workstations of your choice. This ensures that you have reliable and up-to-date information when monitoring your fleet. You can quickly check that software is still installed or that security settings are still enabled. WAPT then simplifies the maintenance of your IT equipment by identifying potential sources of problems more quickly.
The WAPT agent is able to upload most of the information from a workstation to the WAPT console. The workstation status system allows you to check that a workstation is up to date on your fleet or that a deployment has taken place on one or more workstations. Feedback on deployments allows you to quickly identify potential sources of problems and gain reactivity in IT inventory management. Good safety practices:
IT inventory management allows you to make a brief inventory of your IT assets and quickly detect changes or potential threats. With a deployment that can be completed in less than 2 minutes, WAPT offers you the guarantee of keeping your IT equipment up to date, and therefore protecting you against the exploitation of potential security breaches.
Better IT inventory management with WAPT Enterprise
Create a complete and personalized report
WAPT Enterprise integrates a SQL query tool to simplify IT inventory management. This allows you to create your own queries based on the information you need to monitor your fleet.
In addition, many queries already exist in order to be able to benefit from a complete reporting without mastering SQL queries.
All queries are saved in the "PostgreSQL WAPT" database, so you can create, test, duplicate, edit, import, export or delete your queries without any problems.
Standardize software versions
WAPT simplifies your fleet reporting by standardizing software names. All you have to do is select the different versions of the same software and give them a standard name. This standard name allows you to quickly find all the versions of a single software on your entire fleet. This feature allows you to maintain multiple versions of the same software on your fleet without any headache.
Export your data
WAPT Enterprise also offers you the possibility to simply export all available data to the centralized management console. This allows you to create and use complete and fully customized reports using the spreadsheet of your choice. By combining these two tools, you will be able to offer regular reporting to your employees and supervisors.
Going further with WAPT Enterprise
WAPT Enterprise is the ideal tool to quickly deploy software, perform a complete inventory of your fleet or control Windows updates. Many features are also designed to simplify the administration of the largest IT assets. Still some doubts? You get one month free to try WAPT Enterprise!

What users say about WAPT
Read about the inspiring experiences from your peers.
I have no knowledge of Python but have managed to create my own packages. I look forward to version 1.5 with websocket.
THANK YOU for your work. I think this is the beginning of a great adventure with you…
The skills and the availability of the Tranquil IT team members are undeniable and has allowed me to progress by leapfrogs. Samba4 is beautiful on paper, it's better when it works: Tranquil IT masters its implementation perfectly. We opted for the TisBackup backup solution and also the WAPT deployment tool: perfectly operational "in-house" open source solutions.
Unlike other IT services companies, Tranquil IT really cares about following its customers beyond any initial specifications. Very quickly, it makes a difference in the quality of interventions.